Back in June I took the following photo from my phone while lazing on the beach on the gulf side of
Galveston Island
.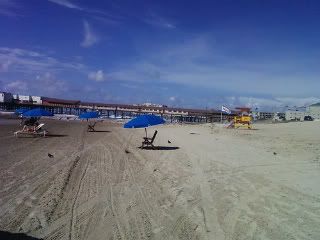 This morning that same general area looks like this...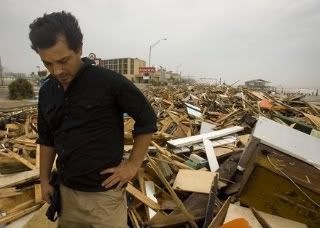 (
Photos from the Austin-American Statesman
).
In the last couple of years Galveston has quickly become one of our all time favorite places. The beaches and the touristy stuff (where these photos were taken) can be fun for a few hours, but what Gill and I fell in love with is the old town with its Victorian charm, art galleries, theaters, coffee shops and excellent restaurants.
Above all there was the
Coppersmith Inn
- an amazing B&B that has become our home away from home when we need a weekend break. No word yet on if it's survived this weekend, like it did the great storm of 1900.
We wait in hope.
(For those people who may be wondering how Ike affected us here in Austin - at its closest the eye was perhaps 140 to 150 miles away, and the only impact we've had is the occasional buffeting wind.)